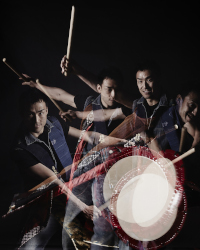 Passport Program: Yamato
When
Occurs on Wednesday March 29 2023
Approximate running time: 1 hour and 15 minutes
Venue
Event Notes
×
Date:
Wednesday, March 29, 2023
Time:
7 p.m.
Plus daytime student matinee: call for info
Tickets:
Gold -
$48
Silver -
$38
Bronze -
$28
Call DCA Box Office (920.868.2728) to reserve/purchase STUDENT TICKETS:
• FREE tickets to DCA's 2022/23 Passport Program Shows for Door County Band, Choir, Dance, and Theater Students - $10 tickets for family members

• And, Special $10 Student Tickets to ALL Students
From their home base in Asuka Village, Japan (a place with more than a thousand years of history),
Yamato
travels extensively, bringing the sound of Japan's Wadaiko drums to audiences worldwide. Wadaiko drums are made of animal skin and ancient trees, some of which are 400 years old—and to Yamato, the drums reflect the center of life and the source of power that pulsates within the human body. With exceptional skill and unwavering conviction, Yamato's performers envelop audiences in the life force conveyed by the powerful drums.
"This is a show of unbridled enthusiasm, much humor and great musical variety."
– The Scotsman