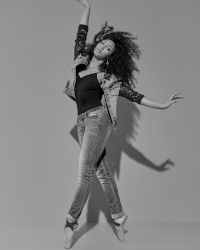 PASSPORT PROGRAM: Hiplet Ballerinas
When
Occurs on Friday October 6 2023
Approximate running time: 2 hours
Venue
Event Notes
×
Date:
Friday, October 6, 2023
Time:
7 p.m.

Tickets:
Gold -
$59
Silver -
$49
Bronze -
$29
Special Student/Youth Pricing (Up to Age 18, please call Box Office to purchase) -
$10
Hiplet (pronounced HIP-LAY), formerly known as "The Rap Ballet," is an Afro-centric fusion of hip-hop and ballet. Developed in the 1990s by Homer Hans Bryant, Hiplet has expanded beyond its Chicago roots into an internationally touring ballet troupe, informed both by classical pointe technique as well as hip-hop, jazz, African, and Latin dance traditions. Specifically designed to make ballet accessible to all by mixing classical dance with contemporary popular songs, Hiplet's fiery performances feature Tchaikovsky combined with African drums, arabesques backed by beat-boxing, and tango en pointe—showcasing Hiplet's trademark sass, hip movements, and struts to the sounds of Black Violin, Beyoncé, Prince, and more.
"Hiplet brings you to your feet . . . wanting to engage with the dancers, to be a part of the magic on stage." - Inlander