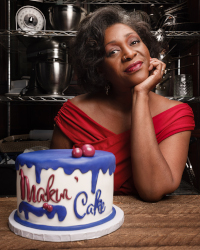 PASSPORT PROGRAM: Makin' Cake with Dasha Kelly Hamilton
When
Occurs on Friday March 1 2024
Approximate running time: 2 hours
Venue
Event Notes
×
Date:
Friday, March 1, 2024
Time:
7 p.m.

Tickets:
Adult - $25
Special Door County Student/Youth Pricing Available! (Up to Age 18, please call Box Office to purchase)
In "Makin' Cake," Dasha Kelly Hamilton slices into American history to explore race, culture, and class in a refreshing and fun way. "Makin' Cake" is storytelling in layers, filled with aha moments, poignant vignettes, and digital media. A duo of onstage bakers support Kelly Hamilton, 2021 Wisconsin Poet Laureate and Milwaukee Artist of the Year, as she digs deep into the past and present. Part history lesson, part social science revelation, "Makin' Cake" is a short story about America's sweet tooth and pathway to salvation, leaving room for both dialogue and dessert with a cake reception immediately following the performance.
"There was something baking during the production that was better than cake. The sense of community. I left feeling closer to the person next to me. And I think we could all use a second helping of that these days." - Scottie Lee Myers, PBS